Forest Hills

topographic map

Click on the map to display elevation.
About this map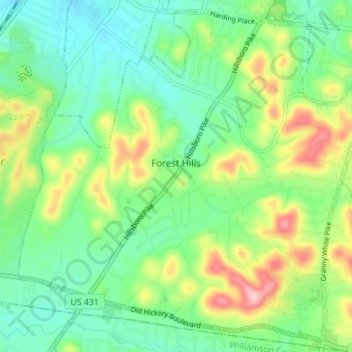 Minimum elevation: 518 ft
Maximum elevation: 1,112 ft
In addition to these two branches of the Natchez Trace, a third route led from Franklin to Nashville along what was historically known as the Middle Franklin Turnpike. This branch of the Natchez Trace left the main road at Leiper's Fork in Williamson County and extended east to Franklin. From Franklin, this route of the Natchez Trace followed the existing roadbed of the Middle Franklin Turnpike, now known as Granny White Pike. Although many travelers passed through the area on the Natchez Trace, settlement was initially not extensive. Compared to the rest of Davidson County, in the early 19th century few large farms existed within what is now Forest Hills. This was primarily because of the area's topography of steep forested hills, which proved difficult to till. In the northwest corner of the city limits are rich bottomlands along the tributaries of Richland Creek. In the central section of the city also are the fertile lands along Otter Creek. With these exceptions, few other areas of Forest Hills supported large-scale farming. Oats, Indian corn, and potatoes were primary crops, and because the topography limited crop production, livestock were essential to most farms. Swine were the dominant livestock on most farms, and many settlers also raised sheep, which made wool an important product. The number of cattle raised was minimal, with most farms emphasizing milk cows and the production of butter over beef cattle.