Kingman

topographic map

Click on the map to display elevation.
About this map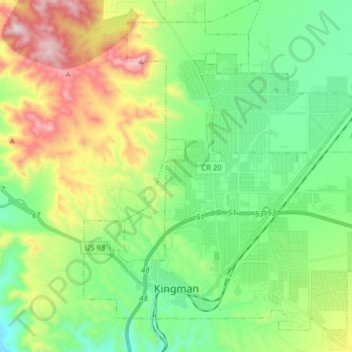 Minimum elevation: 2,713 ft
Maximum elevation: 5,407 ft
Lt. Edward Fitzgerald Beale, a U.S. Navy officer in the service of the U.S. Army Corps of Topographical Engineers, was ordered by the U.S. War Department to build a federal wagon road across the 35th Parallel. His secondary orders were to test the feasibility of the use of camels as pack animals in the southwestern desert. Beale traveled through the present day Kingman in 1857 surveying the road and in 1859 to build the road. Beale's Wagon Road became part of Highway 66 and Interstate Highway 40. Remnants of the wagon road can still be seen in White Cliffs Canyon in Kingman.