Blacksburg

topographic map

Click on the map to display elevation.
About this map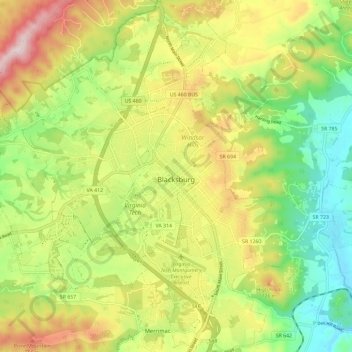 Minimum elevation: 1,444 ft
Maximum elevation: 2,822 ft
In the mid-1600s, English colonists were still uncertain of what lay beyond the Allegheny Mountains, whose topography and possession by native inhabitants, Tutelo-speaking tribes, were a barrier to expanded settlement by the Colony of Virginia. Abraham Wood, who commanded Fort Henry on the frontier (now the site of Petersburg, Virginia), and operated an Indian trading post nearby, organized several expeditions to explore farther west. A passage over the ridge was finally found in 1671 when explorers Batts and Fallam, sent by Wood, reached the present-day location of Blacksburg, Virginia. Their expedition followed Stroubles Creek, through the current locations of the town and campus of Virginia Tech, to what they named Wood's River.
Other topographic maps
Click on a map to view its topography, its elevation and its terrain.