Mauna Kea

topographic map

Click on the map to display elevation.
About this map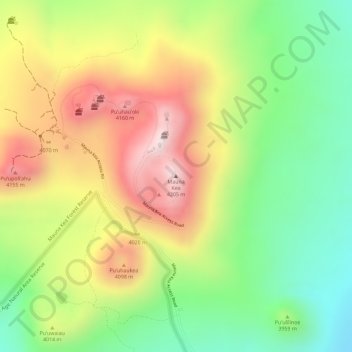 Minimum elevation: 12,333 ft
Maximum elevation: 13,809 ft
Mauna Kea (/ˌmaʊnə ˈkeɪə/; Hawaiian: [ˈmɐwnə ˈkɛjə]; abbreviation for Mauna a Wākea) is a dormant volcano on the island of Hawaiʻi. Its peak is 4,207.3 m (13,803 ft) above sea level, making it the highest point in the state of Hawaiʻi and second-highest peak of an island on Earth. The peak is about 38 m (125 ft) higher than Mauna Loa, its more massive neighbor. Mauna Kea is unusually topographically prominent for its height: its wet prominence is fifteenth in the world among mountains, at 4,207.3 m (13,803 ft); its dry prominence of 9,330 m (30,610 ft) is second in the world, only after Mount Everest. This dry prominence is taller than Mount Everest's height above sea level of 8,848.86 m (29,032 ft), and some authorities have labelled Mauna Kea the tallest mountain in the world, from its underwater base.
Other topographic maps
Click on a map to view its topography, its elevation and its terrain.