Silverton

topographic map

Click on the map to display elevation.
About this map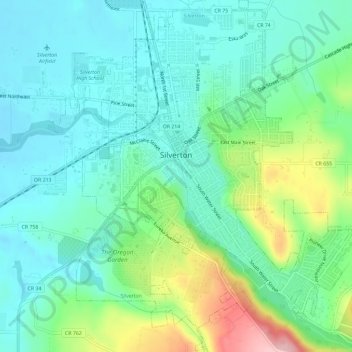 Minimum elevation: 187 ft
Maximum elevation: 751 ft
Silverton's elevation is between 200 and 250 feet (61 and 76 m) above mean sea level with the steep-sided, heavily-wooded Waldo Hills to the south rising an additional 200 feet (61 m). The agricultural richness of the environs is due to massive and repeated floods from prehistoric Lake Missoula in western Montana. Beginning approximately 13,000 years before the present, repeated flooding from Lake Missoula scoured eastern Washington and Oregon, carved out the Columbia River Gorge, and periodically swept down the Columbia River; when floodwaters met ice jams in southwest Washington, the backed-up water spilled over and filled the entire Willamette Valley to a depth of 300 to 400 feet (91 to 122 m) above current sea level, creating a body of water known as Lake Allison. The gradual receding of Lake Allison's waters left layered sedimentary volcanic and glacial soils to a height of about 180 to 200 feet (55 to 61 m) above current sea level throughout the Tualatin, Yamhill and Willamette Valleys.
Other topographic maps
Click on a map to view its topography, its elevation and its terrain.