Lake Harris

topographic map

Click on the map to display elevation.
About this map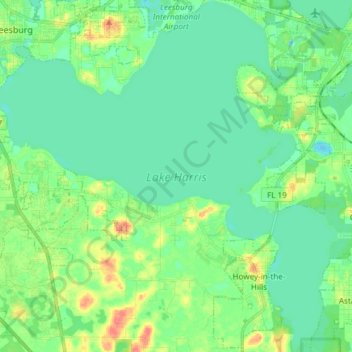 Minimum elevation: 36 ft
Maximum elevation: 194 ft
Lake Harris' primary inflow is at its southwestern shore from the Palatlakaha River, which originates from the Clermont chain of lakes to the south. Other inflowing rivers include Helena Run and discharge from many small springs in Yalaha. Lake Harris' depth is much greater than Lake Okeechobee to the south, with many deeper holes and ledges. The lake is surrounded by sandhills and cypress trees, part of the Central Florida Ridge. This region has the highest elevations in Central Florida, including Sugarloaf Mountain reaching 312 feet (95 m) above sea level. Compared to the rest of Florida, which is relatively flat, it is quite hilly.