Golden Gate Park

topographic map

Click on the map to display elevation.
About this map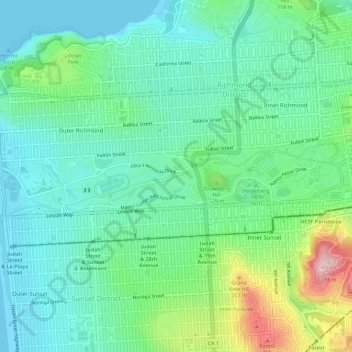 Minimum elevation: -3 ft
Maximum elevation: 892 ft
In the 1860s, San Franciscans began to feel the need for a spacious public park similar to Central Park, which was then taking shape in New York City. Golden Gate Park was carved out of unpromising sand and shore dunes that were known as the Outside Lands, in an unincorporated area west of San Francisco's then-current borders. In 1865, Frederick Law Olmsted proposed a plan for a park using native species suited for San Francisco's dry climate; however, the proposal was rejected in favor of a Central Park-style park needing extensive irrigation. Conceived ostensibly for recreation, the underlying purpose of the park was housing development and the westward expansion of the city. The tireless field engineer William Hammond Hall prepared a survey and topographic map of the park site in 1870 and became its commissioner in 1871. He was later named California's first state engineer and developed an integrated flood control system for the Sacramento Valley. The park drew its name from nearby Golden Gate Strait.
Other topographic maps
Click on a map to view its topography, its elevation and its terrain.