Lee's Summit

topographic map

Click on the map to display elevation.
About this map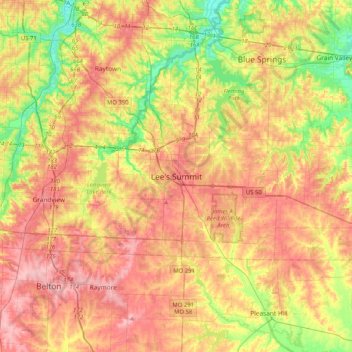 Minimum elevation: 738 ft
Maximum elevation: 1,125 ft
When the surveyors for the Missouri Pacific Railroad came through, the local people and the railroad wanted to name the town in Dr. Lea's honor. He had a farm on the highest point and near the path of the tracks, and his murder had taken place near the site of the proposed depot. So they chose the name of "Lea's Summit", the "summit" portion to reflect its highest elevation on the Missouri Pacific Railroad between St. Louis and Kansas City. But they misspelled the name "Lees Summit" (with two "e's"; "Lee" instead of "Lea"; and leaving out the apostrophe) on a boxcar that was serving as a station and donated by the Missouri Pacific, then a sign next to the tracks, and finally in the printed time schedule for the railroad. Legend states that the name was spelled wrong on the side of the Missouri Pacific depot and has remained Lee's Summit ever since.