Shaver Lake

topographic map

Click on the map to display elevation.
About this map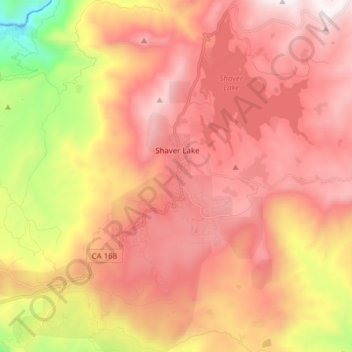 Minimum elevation: 1,417 ft
Maximum elevation: 6,877 ft
Shaver Lake (formerly, Musick Creek and Musick Creek Heights) is a census-designated place (CDP) in Fresno County, California, United States. The population was 634 at the 2010 census, down from 705 at the 2000 census. Shaver Lake is on the southwest end of the lake of the same name, 10 miles (16 km) east of New Auberry, at an elevation of 5,627 ft (1,715 m). The name honors C.B. Shaver, founder of the Fresno Flume and Irrigation Company that built the dam, creating the lake. The lake served as a mill pond for the Shaver Sawmill and the source for a flume that ran 65 miles (105 km) to Clovis. The original town of Shaver was buried under the lake when the Thomas A. Edison Company purchased and enlarged the lake in 1919.