Goleta

topographic map

Click on the map to display elevation.
About this map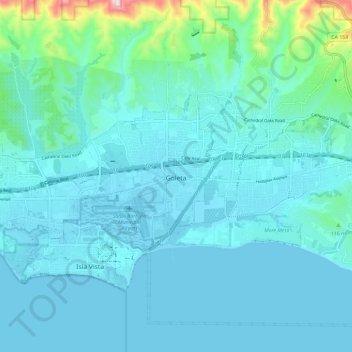 Minimum elevation: -3 ft
Maximum elevation: 1,581 ft
The Goleta Valley is a coastal plain, approximately three miles (4.8 km) across, between the Santa Ynez Mountains, the principal mountain range of southern Santa Barbara County, and the Pacific Ocean. It consists of Holocene and Pleistocene alluvium, colluvium, estuarine deposits, as well as marine terraces created during interglacial high sea level episodes. The area has been subject to rapid geologic uplift, as evidenced by its coastal bluffs and narrow beaches. Between the flattest part of the Goleta Valley and the ocean is an area of uplift paralleling the shore which includes, from west to east, Isla Vista, Mescalitan Island, More Mesa, and the Hope Ranch Hills. The elevation of this block of land relative to Goleta Valley increases from 40 to 300 feet along this length. The uplift was caused by motion along the More Ranch Fault, one of the most geologically active faults in the area. The More Ranch Fault roughly follows a line along El Colegio Road, through the southern part of the airport, along Atascadero Creek, and then continues east into Santa Barbara as the Mission Ridge Fault Zone. Soils in Goleta are mostly well drained brown fine sandy loam of the Milpitas series.
Other topographic maps
Click on a map to view its topography, its elevation and its terrain.