Little Cayman

topographic map

Click on the map to display elevation.
About this map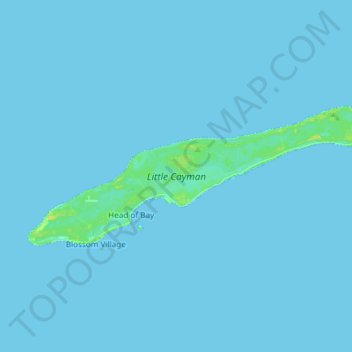 Minimum elevation: 0 ft
Maximum elevation: 46 ft
Little Cayman is one of three Islands comprising the Cayman Islands. It is located in the Caribbean Sea, approximately 60 miles (96 km) northeast of Grand Cayman and five miles (8 km) west of Cayman Brac. Little Cayman is by far the least populous, with a permanent population of about 250 including seasonal residents/homeowners (pre-COVID) and at present around 175 residents. The majority of the population are expatriate workers from Jamaica, the Philippines, and Honduras and from other Latin American countries as well as Canada, the USA, India, Australia, Scotland, England, and South Africa. There are a handful of local Caymanians estimated as fewer than 35. It is about 10 miles (16 km) long with an average width of 1 mile (1600 m) and most of the island is undeveloped. Almost the entire island is at sea level. The highest elevation is about 40 feet (12 metres).