Boone

topographic map

Click on the map to display elevation.
About this map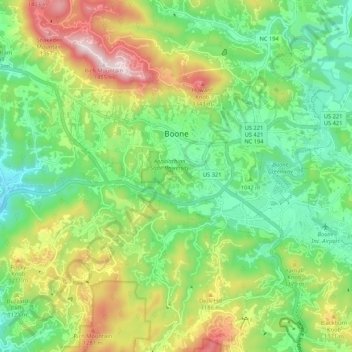 Minimum elevation: 2,920 ft
Maximum elevation: 4,715 ft
Boone is located at 36°12′41″N 81°40′7″W / 36.21139°N 81.66861°W / 36.21139; -81.66861 (36.211364, −81.668657) and has an elevation of 3,333 feet (1015.9 m) above sea level. An earlier survey gave the elevation as 3,332 ft and since then it has been published as having an elevation of 3,333 ft (1,016 m). Boone has the highest elevation of any town of its size (over 10,000 population) east of the Mississippi River. As such, Boone features, depending on the isotherm used, a humid continental climate (Köppen Dfb), a rarity for the Southeastern United States, bordering on a subtropical highland climate (Cfb) and straddles the boundary between USDA Plant Hardiness Zones 6B and 7A; the elevation also results in enhanced precipitation, with 59.13 inches (1,500 mm) of average annual precipitation. Compared to the lower elevations of the Carolinas, winters are long and cold, with frequent sleet and snowfall. The daily average temperature in January is 31.5 °F (−0.3 °C), which gives Boone a winter climate more similar to coastal southern New England rather than the Southeast, where a humid subtropical climate (Cfa) predominates. Blizzard-like conditions are not unusual during many winters. Summers are warm, but far cooler and less humid than lower regions to the south and east, with a July daily average temperature of 68.4 °F (20.2 °C). Boone typically receives on average nearly 25 inches (64 cm) of snowfall annually, far higher than the lowland areas in the rest of North Carolina. On January 21, 1985, the temperature fell to −24 °F (−31 °C).
Other topographic maps
Click on a map to view its topography, its elevation and its terrain.