Mauna Loa

topographic map

Click on the map to display elevation.
About this map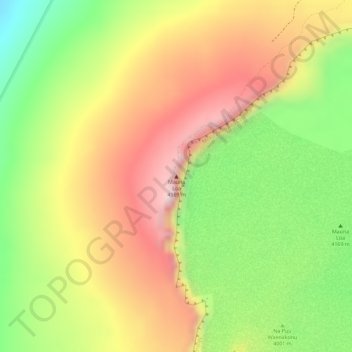 Minimum elevation: 12,664 ft
Maximum elevation: 13,727 ft
Mauna Loa is the largest subaerial and second largest overall volcano in the world (behind Tamu Massif), covering a land area of 5,271 km2 (2,035 sq mi) and spans a maximum width of 120 km (75 mi). Consisting of approximately 65,000 to 80,000 km3 (15,600 to 19,200 cu mi) of solid rock, it makes up more than half of the surface area of the island of Hawaiʻi. Combining the volcano's extensive submarine flanks (5,000 m (16,400 ft) to the sea floor) and 4,170 m (13,680 ft) subaerial height, Mauna Loa rises 9,170 m (30,085 ft) from base to summit, greater than the 8,848 m or 29,029 ft elevation of Mount Everest from sea level to its summit. In addition, much of the mountain is invisible even underwater: its mass depresses the crust beneath it by another 8 km (5 mi), in the shape of an inverse mountain, meaning the total height of Mauna Loa from the start of its eruptive history is about 17,170 m (56,000 ft).
Other topographic maps
Click on a map to view its topography, its elevation and its terrain.