Blowing Rock

topographic map

Click on the map to display elevation.
About this map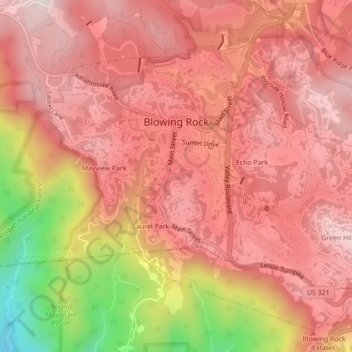 Minimum elevation: 2,024 ft
Maximum elevation: 3,986 ft
The climate in the area can be described as warm-summer humid continental (Dfb), or highland subtropical climate (Cfb) depending on the isotherm used; Köppen Climate Classification. This results in an unusual climate compared to the rest of North Carolina; the town's elevation of 3,500 to 3,600 feet (1,100 to 1,100 m) above sea level results in cooler summer temperatures than lowland areas to the east and south. Daytime temperatures in the summer infrequently rise above 80 °F (27 °C). Temperatures in the winter are much colder and harsher than what would be expected in a southern state, being more similar to southern coastal New England. Daytime highs can frequently fall into the 20s or lower. Snow, sleet, and freezing rain are all common in the winter months. Springtime and Autumn in Blowing Rock are both cool and generally pleasant.
Other topographic maps
Click on a map to view its topography, its elevation and its terrain.