Governors Island

topographic map

Click on the map to display elevation.
About this map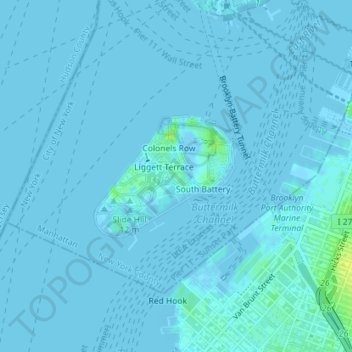 Minimum elevation: -7 ft
Maximum elevation: 52 ft
By the mid-1790s, increased military tensions renewed an interest in fortifying New York Harbor, and a U.S. congressional committee had drawn a map of possible locations for the First System of fortifications to protect major American urban centers. Governors Island was one of the first locations where defenses were built. As such, the agreement with the Board of Regents was voided in 1794, and some $250,000 in federal funding was allocated to the construction of defenses on Governors Island in 1794 and 1795. Fort Jay was built starting in 1794 on the site of the earlier Revolutionary War earthworks. Work proceeded despite concerns that Fort Jay's low elevation made it vulnerable to being captured. Fort Jay, a square four-bastioned fort, was made of earthworks and timber, two impermanent materials that deteriorated soon after the threat of war went away, and by 1805 it had significantly degraded. Ownership of the island was transferred to the federal government on February 15, 1800.
Other topographic maps
Click on a map to view its topography, its elevation and its terrain.