Seattle

topographic map

Click on the map to display elevation.
About this map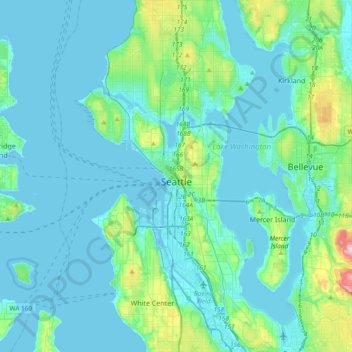 Minimum elevation: -20 ft
Maximum elevation: 1,050 ft
The city itself is hilly, though not uniformly so. Like Rome, the city is said to lie on seven hills; the lists vary but typically include Capitol Hill, First Hill, West Seattle, Beacon Hill, Queen Anne, Magnolia, and the former Denny Hill. The Wallingford, Delridge, Mount Baker, Seward Park, Washington Park, Broadmoor, Madrona, Phinney Ridge, Sunset Hill, Blue Ridge, Broadview, Laurelhurst, Hawthorne Hills, Maple Leaf, and Crown Hill neighborhoods are all located on hills as well. Many of the hilliest areas are near the city center, with Capitol Hill, First Hill, and Beacon Hill collectively constituting something of a ridge along an isthmus between Elliott Bay and Lake Washington. The break in the ridge between First Hill and Beacon Hill is man-made, the result of two of the many regrading projects that reshaped the topography of the city center. The topography of the city center was also changed by the construction of a seawall and the artificial Harbor Island (completed 1909) at the mouth of the city's industrial Duwamish Waterway, the terminus of the Green River. The highest point within city limits is at High Point in West Seattle, which is roughly located near 35th Ave SW and SW Myrtle St. Other notable hills include Crown Hill, View Ridge/Wedgwood/Bryant, Maple Leaf, Phinney Ridge, Mt. Baker Ridge, and Highlands/Carkeek/Bitterlake.
Other topographic maps
Click on a map to view its topography, its elevation and its terrain.