Lake Anna

topographic map

Click on the map to display elevation.
About this map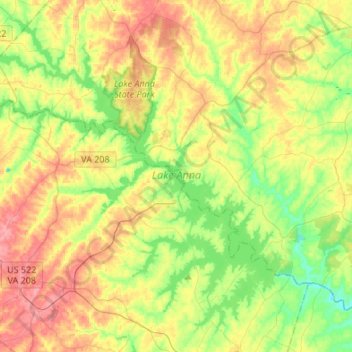 Minimum elevation: 171 ft
Maximum elevation: 489 ft
The dam creating the lake, North Anna Dam, is a 5,000-foot-long (1,524 m) and 90-foot-high (27 m) earthen embankment dam. It is 30 feet (9 m) wide at its crest which sits at an elevation of 265 feet (81 m) above sea level. The dam's spillway is located in the center of its body and is 200 feet (61 m) wide, containing three main 40-foot-wide (12 m) and 30-foot-high (9 m) radial gates. Two smaller 8.5-foot (3 m) wide and tall gates on the outer edges of the spillway section maintain normal discharges. Normal elevation for the reservoir is 250 feet (76 m).[3] The dam's hydroelectric power plant is located on the west side of the spillway and is supplied with water via a 5-foot-diameter (2 m) penstock. The plant consists of two small open runner turbine-generators, the larger with a 775 kW capacity and the smaller rated at 225 kW for a combined installed capacity of 1 megawatt.[4][5]
Other topographic maps
Click on a map to view its topography, its elevation and its terrain.