Sierra Vista

topographic map

Click on the map to display elevation.
About this map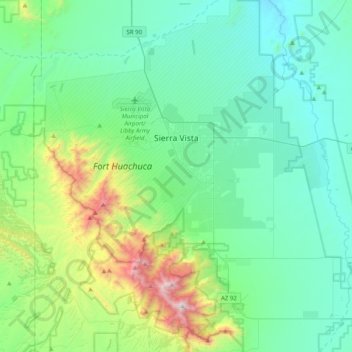 Minimum elevation: 3,878 ft
Maximum elevation: 9,386 ft
In the Köppen climate classification system, Sierra Vista falls within the typical cold semi-arid climate (BSk) of mid-altitude Arizona. Fall and spring, like most other parts of Arizona, are very dry. Winters are cool to cold with frosts which can occasionally be hard freezes; frost can be expected to stop in mid- to late April. Spring, like fall, spends about half of itself within the frost season. Summer starts off dry, but progressively gets wetter as the monsoon season approaches. The city has a fairly stable climate with very little humidity. However, the North American Monsoon can bring torrential rains during the months of July and August and will produce almost half the yearly rainfall in just those two months alone. Due to the dry climate the rest of the year and the city's high elevation, daily winter low temperatures range from 20 to 30 °F (−6.7 to −1.1 °C) on average and up to 50 °F (10.0 °C) on rare occasions when moist fronts bring warm air from the Gulf of California. Snow is not a common sight on the streets of Sierra Vista though some years the city can receive several inches of snow and other years it will receive none. However, a snow-capped Miller Peak and Carr Peak in the Huachuca Mountains is a common sight for four to five months every year.
Other topographic maps
Click on a map to view its topography, its elevation and its terrain.