Eagle Mountain

topographic map

Click on the map to display elevation.
About this map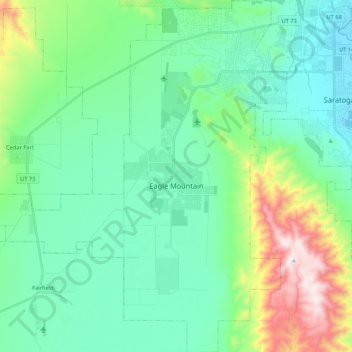 Minimum elevation: 4,482 ft
Maximum elevation: 7,674 ft
Eagle Mountain's climate varies drastically between the northeastern Ranches area and the southwestern City Center area. Despite being further south than Salt Lake City, both areas have cooler temperatures due to sitting at a higher elevation. The Ranches section of the city has slightly milder temperatures since it is closer to the moderating impact of the Salt Lake and Utah Valleys as well as the Great Salt Lake, which gives it a climate more similar to Salt Lake City. The City Center area near Fairfield lies in the Cedar Valley, which cuts that area off from the moderating influence of the Salt Lake Valley and Great Salt lake. This causes nights to get significantly colder than in the Ranches but also puts it in a rain shadow causing less precipitation and more sunshine than the Ranches part of the city.
Other topographic maps
Click on a map to view its topography, its elevation and its terrain.