Snohomish County

topographic map

Click on the map to display elevation.
About this map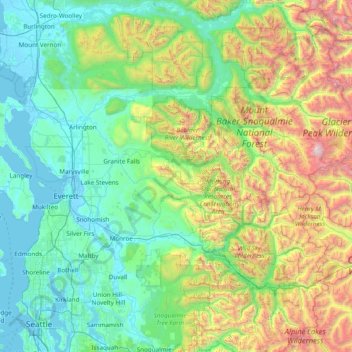 Minimum elevation: -10 ft
Maximum elevation: 10,453 ft
The lowland areas of western Snohomish County generally has a temperate Mediterranean climate similar to the rest of the central Puget Sound region with dry summers and wet winters. The county's weather is heavily influenced by maritime systems, pushed by prevailing westerly winds but dampened by the Olympic Mountains. The mean monthly temperatures for the county range from 20 to 40 °F (−7 to 4 °C) during the winter and 55 to 65 °F (13 to 18 °C) in the summer. The record highest temperatures were set during a June 2021 heat wave, with highs of up to 109 °F (43 °C) recorded in several areas. Annual precipitation ranges from 35 inches (89 cm) in the west to 180 inches (460 cm) in the upper elevations of the Cascades; the majority of the region's precipitation falls between October and March. The county's lowlands also has an average annual snowfall ranging from 10 to 20 inches (25 to 51 cm). The Puget Sound Convergence Zone, a known meteorological phenomenon, runs through southwestern Snohomish County and causes narrow bands of precipitation.
Other topographic maps
Click on a map to view its topography, its elevation and its terrain.