Cameron Park

topographic map

Click on the map to display elevation.
About this map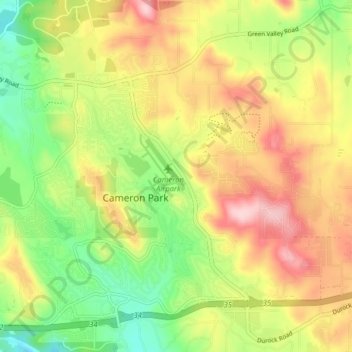 Minimum elevation: 1,020 ft
Maximum elevation: 1,722 ft
Cameron Park is situated in an interior chaparral zone or brush zone just east of the Central Valley. It is the closest population center to the Pine Hill Ecological Reserve. Native vegetation includes an abundance of redbud and manzanita bushes, and brush in general. Where treed the native trees are primarily gray pines, and oak trees with some small groves of ponderosa pines starting in the higher elevation zones. The elevation of Cameron Park varies between approximately 1,200 and 1,450 feet (370 and 440 m) above sea level, and is not considered in the snow zone of the Sierra Nevada mountains to the east, which are typically between 3,000 and 5,000 feet of elevation and above.