Mount Mazama

topographic map

Click on the map to display elevation.
About this map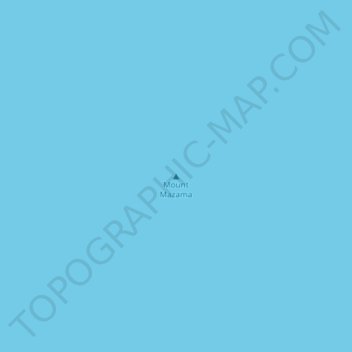 Minimum elevation: 6,168 ft
Maximum elevation: 6,168 ft
Mount Mazama (Giiwas in the Native American language Klamath) is a complex volcano in the state of Oregon, United States, in a segment of the Cascade Volcanic Arc and Cascade Range. Most of the mountain collapsed following a major eruption approximately 7,700 years ago. The volcano is in Klamath County, in the southern Cascades, 60 miles (97 km) north of the Oregon–California border. Its collapse formed a caldera that holds Crater Lake. The mountain is in Crater Lake National Park. Mount Mazama originally had an elevation of 12,000 feet (3,700 m), but following its climactic eruption this was reduced to 8,157 feet (2,486 m). Crater Lake is 1,943 feet (592 m) deep, the deepest freshwater body in the US and the second deepest in North America after Great Slave Lake in Canada.
Other topographic maps
Click on a map to view its topography, its elevation and its terrain.