Henderson County

topographic map

Click on the map to display elevation.
About this map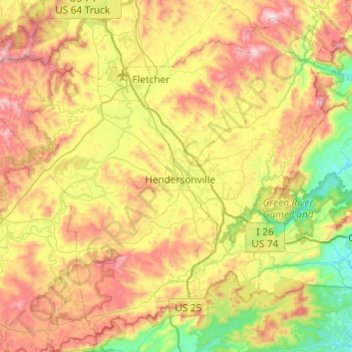 Minimum elevation: 906 ft
Maximum elevation: 4,347 ft
Due to its geographic setting along the Eastern Continental Divide and its extreme topographic variation, Henderson County presents a wide variation in temperature and precipitation conditions. The highest elevations occur along the northwest and northern boundaries of the county and within the Blue Ridge Escarpment, a rugged area of peaks and narrow valleys that rise from the Piedmont to the continental divide and the Blue Ridge Plateau. The lowest elevations occur within the valleys of the escarpment and in the broader valleys of the Blue Ridge Plateau. The mean annual temperature of the county is 55.1 °F, with a range from 50.3 to 57.9 °F depending on the elevation, with higher temperatures occurring at lower elevations and lower temperatures in the higher mountains. The month of July is the hottest in the county, with a mean temperature of 72.6 °F and a mean range of 66.6 to 75.8 °F. The coolest month is January with a mean temperature of 36.9 °F and a mean range of 33.3 to 39.5 °F. Precipitation is also correlated to elevation, with higher precipitation normally occurring at higher elevations and lower precipitation in the valleys. The mean annual precipitation of Henderson County is 56.2 inches, with a mean range of 45.04 to 78.03 inches. March has the highest mean precipitation of 5.1 inches, with a mean range of 3.9 to 6.7 inches. The lowest precipitation occurs in October, with a mean value of 3.9 inches and a mean range of 2.8 to 5.8 inches.
Other topographic maps
Click on a map to view its topography, its elevation and its terrain.