Virginia

topographic map

Click on the map to display elevation.
About this map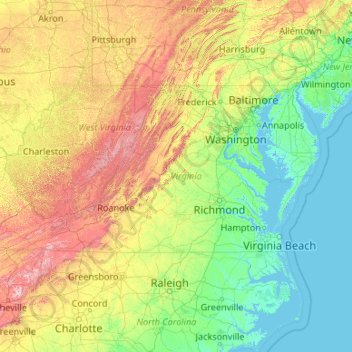 Minimum elevation: -10 ft
Maximum elevation: 6,253 ft
Forests cover 62% of Virginia as of 2019, of which 78% is considered hardwood forest, meaning that trees in Virginia are primarily deciduous and broad-leaved. The other 22% is pine, with Loblolly and shortleaf pine dominating much of central and eastern Virginia. In the western and mountainous parts of the Commonwealth, oak and hickory are most common, while lower altitudes are more likely to have small but dense stands of moisture-loving hemlocks and mosses in abundance. Spongy moth infestations in oak trees and the blight in chestnut trees have decreased both of their numbers, leaving more room for hickory and invasive ailanthus trees. In the lowland tidewater and Piedmont, yellow pines tend to dominate, with bald cypress wetland forests in the Great Dismal and Nottoway swamps. Other common trees include red spruce, Atlantic White cedar, tulip-poplar, and the flowering dogwood, the state tree and flower, as well as willows, ashes, and laurels. Plants like milkweed, dandelions, daisies, ferns, and Virginia creeper, which is featured on the state flag, are also common. The Thompson Wildlife Area in Fauquier is known for one of the largest populations of trillium wildflowers in all of North America.
Other topographic maps
Click on a map to view its topography, its elevation and its terrain.