Wilkes County

topographic map

Click on the map to display elevation.
About this map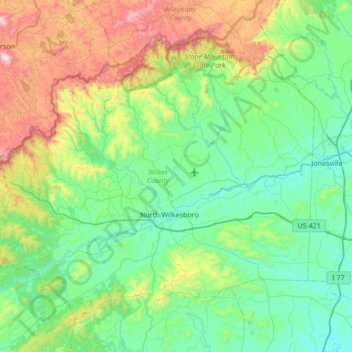 Minimum elevation: 814 ft
Maximum elevation: 4,580 ft
Wilkes County is located on the eastern slope of the Blue Ridge Mountains, a part of the Appalachian Mountains chain. The county's elevation ranges from 900 feet (375 meters) in the east to over 4,000 feet (1,219 meters) in the west. The Blue Ridge Mountains run from the southwest to the northeast, and dominate the county's western and northern horizons. Tomkins Knob, the highest point in the county, rises to 4,079 feet (1243 meters). The Blue Ridge Parkway runs along the crest of the Blue Ridge on the county's northern and western borders. The foothills and valleys of the Blue Ridge form most of the county's midsection, with some elevations exceeding 2,000 feet (610 meters). Stone Mountain State Park, located in the foothills of northern Wilkes County, is one of the most popular state parks in North Carolina, and is noted for its excellent rock climbing and trout fishing. The Brushy Mountains, an isolated spur of the Blue Ridge, form the county's southern border. Wilkes County's terrain gradually becomes more level and less hilly as one moves to the east; the far eastern section of the county lies within the Piedmont region of North Carolina. The largest river in Wilkes is the Yadkin River, which flows through the central part of the county. The county's three other major streams, all of which flow into the Yadkin, are the Reddies River, Roaring River, and Mulberry Creek. Following the devastating floods of 1916 and 1940, the US Army's Corps of Engineers constructed the W. Kerr Scott Dam and Reservoir on the Yadkin River four miles west of Wilkesboro. Opened in 1962, the dam created a lake with a shoreline of 56 miles. The lake is used for boating, swimming, fishing, and waterskiing; it is especially noted for its excellent bass fishing. The W. Kerr Scott lake is the largest body of water in Wilkes.
Other topographic maps
Click on a map to view its topography, its elevation and its terrain.