Oregon

topographic map

Click on the map to display elevation.
About this map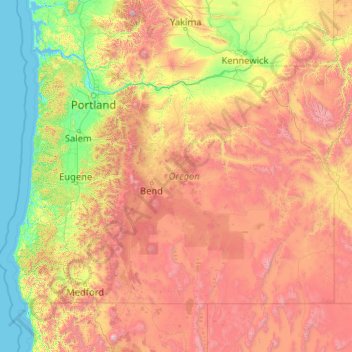 Minimum elevation: -3 ft
Maximum elevation: 13,333 ft
The earliest evidence of the name Oregon has Spanish origins. The term "orejón" (meaning "big ear") comes from the historical chronicle Relación de la Alta y Baja California (1598), written by Rodrigo Montezuma of New Spain; it made reference to the Columbia River when the Spanish explorers penetrated into the North American territory that became part of the Viceroyalty of New Spain. This chronicle is the first topographical and linguistic source with respect to the place name Oregon. Another possible source is the Spanish word oregano, which refers to a plant that grows in the southern part of the region. It is also possible that the American territory was named by the Spaniards, as there is a stream in Spain called the "Arroyo del Oregón" (which is located in the province of Ciudad Real), or that the "j" in the Spanish phrase "El Orejón" was later corrupted into a "g", and in context might refer to the 'earful' of the massive Columbia River at its mouth.
Other topographic maps
Click on a map to view its topography, its elevation and its terrain.