United States

topographic map

Click on the map to display elevation.
About this map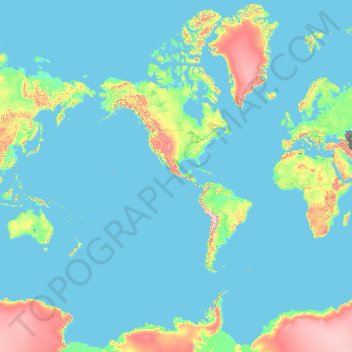 Minimum elevation: -95 ft
Maximum elevation: 17,326 ft
The Rocky Mountains, west of the Great Plains, extend north to south across the country, peaking at over 14,000 feet (4,300 m) in Colorado. Farther west are the rocky Great Basin and deserts such as the Chihuahua, Sonoran, and Mojave. The Sierra Nevada and Cascade mountain ranges run close to the Pacific coast, both ranges also reaching altitudes higher than 14,000 feet (4,300 m). The lowest and highest points in the contiguous United States are in the state of California, and only about 84 miles (135 km) apart. At an elevation of 20,310 feet (6,190.5 m), Alaska's Denali is the highest peak in the country and in North America. Active volcanoes are common throughout Alaska's Alexander and Aleutian Islands, and Hawaii consists of volcanic islands. The supervolcano underlying Yellowstone National Park in the Rockies is the continent's largest volcanic feature.
Other topographic maps
Click on a map to view its topography, its elevation and its terrain.